On July 6, 2023, at 3:00 p.m. a lecture will be held on "A New Natural Polycyclic Aromatic Hydrocarbon Mineral "Hokkaidoite" and its Science" by Dr. Ryoji Tanaka (chief research officer at the Sagami Chemical Research Institute) as follows.
The lecture will be open to the first 110 participants. The lecture will be given in Japanese and will not be streamed online. All interested parties are welcome to attend.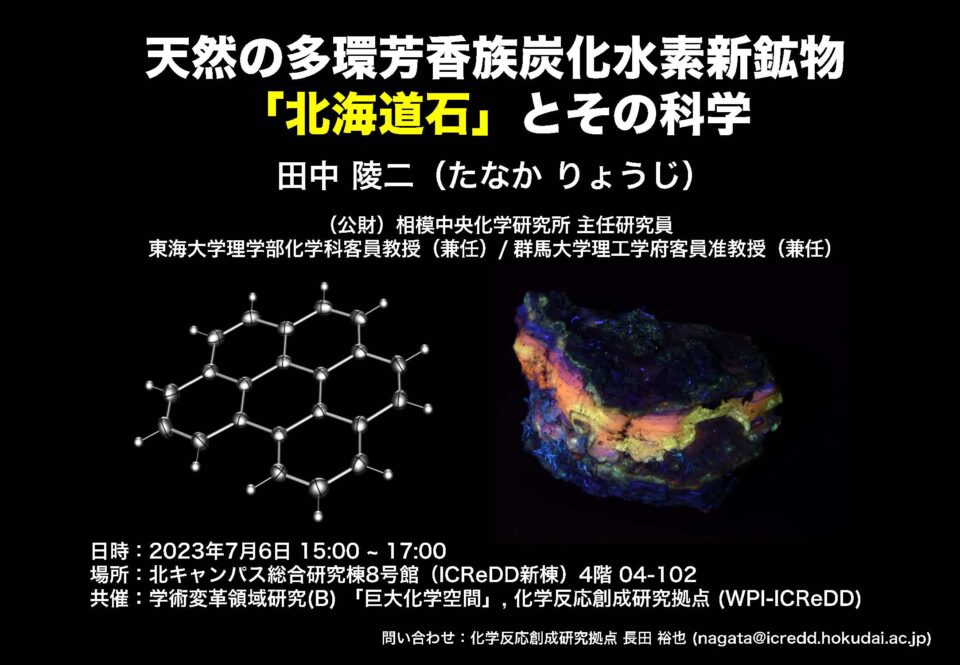 Date:  July 6th (Thurs) 3:00 p.m. – 5:00 p.m. [JST], 2023
Venue: The new ICReDD building (General Research Building No.8, North Campus)
*Please come to the main entrance on the north side of the building

.

Format: In-person
Language: Japanese

Number of participants: The first 110 people

Registration: Not required. The registration fee is free.
*Please refrain from participating if you have a cough, fever, or other symptoms.
We sincerely look forward to your participation.